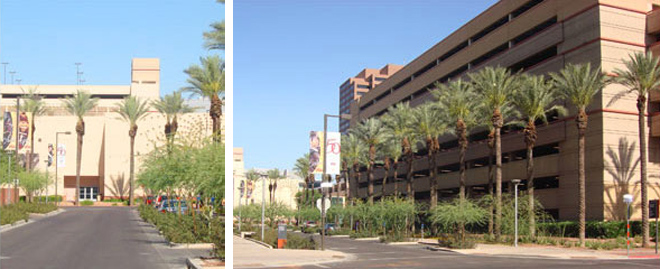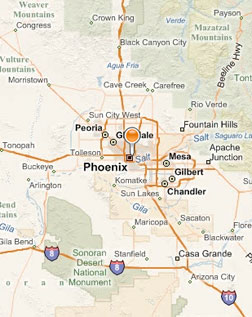 In 2006, Novawest began work on the development of an urban infill site in downtown Phoenix at the edge of ASU's downtown campus. The site measures only 50 feet deep and wraps the edge of a parking garage. However, the seemingly difficult constraints actually gave rise to a clever design that took advantage of the parking garage to block undesirable solar exposure from the south on the lower levels while harnessing the power of the sun through a vertical array of photovoltaic panels on the upper levels. Intended for professional offices on top of street-level retail, the unconventional floor plates opened up numerous opportunities for energy efficiencies. The interiors were designed to achieve the US Green Buiding Council's LEED Commercial Interior Certification. Later designs of the project called for urban-style lofts on the top two floors with private access to the parking garage.
This mixed-use project met multiple objectives of the city and showcased urban Phoenix with an iconic building in the downtown university neighborhood. By redeeming what was previously considered "dead" space this "sliver site" project promises to deliver on many facets of thoughtful urbanism: high-density, "green" design, aesthetically appealing infill, consistency with community master plans, transit-oriented development (local and regional bus stop on the corner and light rail 3 blocks away), and the mixing of multiple uses in a single building.
Due to the economic downturn that began to hit the Phoenix office market in late 2007 the project was placed on hold. Novawest continues to see potential upside value in this project as well as other innovative and carefully crafted projects in the Northeast quadrant of downtown Phoenix and in progressive municipalities in the greater metro area like Chandler.
Sliver Conceptual Design 4-13-07